Art Events and Festivals in Belgrade
FEST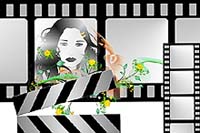 FEST - Belgrade International Film Festival - A well-known and popular festival taking place in late February in four Belgrade cinemas. The selection of films ranges from the latest Hollywood flicks to films from lesser-known industries across the globe, and to old masterpieces shown in the Yugoslav Film Archives (Kinoteka). Films are shown in original version with Serbian or English subtitles (inquire in advance), they are never dubbed. Prices reflect FEST's usual friendly-rate policy and are typically around 1.5-3 euro.
Cinemania
Cinemania - A yearly film festival held in Belgrade (Sava Center) and Novi Sad (Arena), showing premiers of new movies and some highlights from the past year at lower prices. Usually held in late October, with the program covering about two dozen cinematic works of art. In Belgrade, tickets for Cinemania are sold in the Tuckwood movie theater (Kneza Milosa 7a), in the Belgrade ticket center (Trg Republike 5), and on the spot in the Sava Centar congressional hall and movie theater (Milentija Popovica 9).
BITEF
Belgrade International Theater Festival (BITEF) - An international festival of modern theater, BITEF has been the pride and joy of Belgrade for decades and is one of the few genuine expressions of culture that survived the social and political upheavals and remains a symbol of unrest and revolutionary spirit. BITEF is held from mid-August until the end of September, and it is definitely a special treat for all fans of modern and Movement Theater. In addition to the festival itself, the theater building is an experience of its own - it is located in a reconstructed Evangelical church very near Belgrade's bohemian quarter Skadarlija, and today also houses one of the finest Belgrade clubs, the Bitef Art Cafe.
Belgrade Days
Belgrade Days (Dani Beograda) - the period from April 16th-19th has been designated as the official time to celebrate the city and reflect upon its history, and every year numerous cool events take place over the four days. The program typically includes a parade through the center, an open theater day, a museum night, an ancient crafts fair, as well as many sports events, concerts, exhibitions, and panels.
BELEF
Belgrade Summer Festival BELEF (Beogradski Letnji Festival) - Held every summer, this festival encompasses a wide array of art performances and activities held through July and August across Beograd. It includes dance, drama, music, and the visual arts.
Belgrade Book Fair
Belgrade Book Fair (Beogradski Sajam knjiga) - A once-a-year opportunity to see all that's hot in the world of literature and buy it at bargain prices. In addition, you can catch book promotions, presentations of authors (both local and international), and much, much more - the Belgrade Book Fair celebrated its 50th birthday in 2005. The fair is held in the Belgrade Fair building (Beogradski sajam), in Bulevar vojvode Misica 14, and it is usually held in October.