Driving to Belgrade Serbia - Travel Information
Driving to Belgrade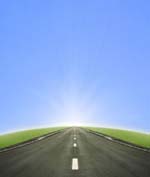 Corridors E-70 and E-75 go through Belgrade. All you need is a valid international driving license and international vehicle insurance, which can also be bought at the border.
Belgrade - distance to cities in Europe: Amsterdam 1760 km, Athens 1090 km, Berlin 1490 km, Bern 1360 km, Brussels 1700 km, Budapest 380 km, Bucharest 620 km, Istanbul 930 km, Copenhagen 2020 km, London 2070 km, Munich 1020 km, Moscow 2200 km, Roma 1280 km, Stockholm 2620 km. Vienna 620 km, Thesaloniki 700 km.
The two major international roads (E-70, E-75) are in relatively good state - if you choose these, you will have to pay on several pay tolls to Belgrade. Local roads can have really poor signalization so we advise you to purchase a good map before venturing on those.
Speed limits are in accordance with international standards - for example on a highway the maximum speed is 120km/hour. The alcohol limit is 0.5 permilles - approximately the equivalent of one beer.