Food Delivery Belgrade - restaurants
You're at your home,
rented apartment or a hotel
, watching movie or resting from the wild nightlife, but you're in need for instant food in Belgrade? "OMG, who will prepare dinner at this moment? Even the fast food restaurant is far away at this point…". Luckily,
there's the beloved solution
for all hungry people in Belgrade.
Home food delivery Belgrade list of restaurants
!
Belgrade Eye carved this unique list of
the best food delivery restaurants in Belgrade Serbia
, which will help you choose the food of your own taste from all over the world. Whether you're looking for
pizza delivery in Belgrade, or chinese food
delivery, we got you covered, all national cuisines of the world are here!
Fast food delivery in Belgrade - territory and neighbourhoods
Fast food restaurants in Belgrade were the first ones to start with food delivery in Serbia. With the growth of popularity, came the competition and battle for territory of Belgrade.
Battle for every neighbourhood
throughout the years ensured that even the farthest neighbourhood can get their food delivery in time.
Anywhere in Belgrade
All mentioned above, ensured that food wasn't available only for the privileged ones whom are living in the
center of Belgrade
(
Stari grad (Old city), Vracar or Savski Venac neighbourhood
), rather throughout the whole city, including
Vozdovac, Novi Beograd (New Belgrade), Palilula, Mirijevo, Resnik, Banovo Brdo
and other areas of our beloved capital.
Advantages of food delivery services:
Multiple choices

of restaurants all in one place - BelgradeEye!

You're

only a click or a call away from your food

! No need to get ready, plan in advance or spend any time to get to the restaurant;

Food delivery is

usually cheaper

than the

classic restaurants in Belgrade

, where you can enjoy yourself, but where you're paying for the ambiance.

You

don't need to hunt for a parking spot

!
Types of food you can order to your location in Belgrade
Belgrade Eye is trying to offer diversity of restaurants to its users, and this is why our list of restaurants with food delivery is filled with different types of cuisines, crafted for every hungry person or simply a food lover. Sweet tooths included!
Traditional serbian barbecue
Whether
you're a fan of leskovacki rostilj or muckalica
, whether you're a fan of
sarajevski or banjalucki kebab
, all of this and more, you can find in the grill restaurants in Belgrade, specialized in food delivery.
You're trying to find good barbecue in the center of Belgrade or
Vozdovac, Novi Beograd and Konjarnik
? Doesn't matter, restaurants on our list are here to ensure you can get the food you want, where you want it, and all of that in the right time!
Chinese food Belgrade delivery
Chinese food and delivery simply go together
. Some would say that chinese food started offering delivery even before pizza delivery. So, the only thing left is to choose the meal you want to eat, and choose one of our many restaurants on the list. The most famous ones in Belgrade, are definetely Soya Sos, Asian Food or Ping Pong 011.
Get the right mixture of beef, chicken or pork meat, with all those sweet, sour or hot sauces, add some peanuts or fruits, and your chinese food will be delivered within 30 - 45 minutes!
Pizza delivery in Belgrade
The first restaurants to start food delivery in Belgrade were Italian types of fast food. Pizza delivery with all the other tasty italian meals like panzerotti, calzone etc.
Pizza is eaten all over the world
, including Belgrade! From the young scholars on their break between lectures
to the grown working people who are trying to catch a break
during those long working hours, everyone likes food!
Which one is your favourite pizza flavor:
Quattro Staggioni,

Capricciosa,

Margareta,

Napolitana?
Visit our website, choose your pizza delivery restaurant in Belgrade and order your favourite pizza taste! It's that simple!
Mexican food, gyro and sushi in Belgrade? Why not?!
These are all the options you can get if you decide to order food at your home,
apartment in Belgrade
, a
hostel
or any other loction.
Mexican and sushi restaurants are growing very fast
, and are getting more and more sushi lovers here in Belgrade. Choose the
sushi delivery
restaurant by your wish, or order a
tasty burrito
and enjoy yourself, right here in Belgrade!
List of delivery restaurants in Belgrade Serbia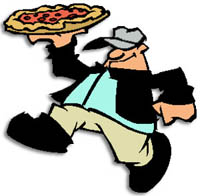 Pizzeria The Saint
Tršćanska 4, Beograd
Phone: 011/3821 611, 062 689 889

Pizza Delivery Paun
Ljudevita Posavskog 4
Phone: 011/3446 994, 3445 283

Mamma's Belgrade Delivery Restaurant
Kumanovska 6, Belgrade
Phone: 011/344 11 23, 344 62 14

Šumadija Delivery Restaurant
Nebojšina 51, Belgrade
Phone: 011/243 9616

Allo-Allo
Svetozara Markovića 19a
Phone: 011/ 324 6974, 323 8888
Pizzeria Gonzales
Pariske Komune 65, New Belgrade
Phone: 011/ 267 3371
Robin Food
Takovska 48
Phone: 011/ 278 5931

Campo de Fiori Delivery Restaurant
Skadarska 11, Belgrade
Phone: 011 324 2940

City Pizza
Dimitrija Tucovića 65
Phone: 011 3442 390, 063 7373000
Chickenita
Mekenzijeva 85
Phone: 011/2458 279

Napoli Pizza Delivery
Đušina 10, Beograd
Phone: 011/334 0667
Cafe Pizzeria Pomodoro
Hilandarska 32
Phone: 062/ 69 45 89
Free delivery
Gonzo
Cara Dušana 24
Phone: 011/ 2910 249
Trattoria Košava
Kralja Petra 36
Phone: 011/ 2627 344
Pizza Factory
Rada Končara 20
Phone: 011/ 3444 745
Pizza Haus
Rada Neimara 17
Phone: 011/ 285 2222
Pizzeria A'sii
Phone: 011/3980 407
Senza Paura Delivery Service
Banijska 62, Beograd
Phone: 011/ 344 5458
Peking
Vuka Karadžića 2, Beograd
Phone: 011/ 2181 931
Pizza Haos
Nemanjina 4, Belgrade
Phone: 011/ 361 52 45