Flights to Belgrade, Serbia
Flights to and from Belgrade, Serbia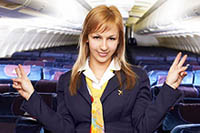 You're probably wondering if there are really no low-cost flights to Belgrade or from Belgrade. The answer: there are many please check out seasonal Belgrade flight schedule:
Flight Schedule - International Flights to Belgrade:
Please note that schedule of flights to Belgrade is subject to changes. Seasonal table can be seen here http://www.beg.aero/passengers/flights/seasonal_timetable.84.htmlTelephone for information: +381 11 3112 123.
All times shown are local times of actual arrivals and departures from Belgrade Nikola Tesla International Airport. The information is automatically updated on every 3 minutes and is for informative purpose only. The carriers reserve the right to change their flight schedules for which we cannot be held responsible.
Transportation from Belgrade Airport
There is a direct bus every hour on the hour and the price is around 2 euro. To get to the center, get off either at Belgrade train station or on Slavija square (final stop). You can also catch a taxi - see our section on Belgrade taxi for more information.