EXIT FESTIVAL Novi Sad was held 10-14th July 2013, info on Exit festival 2014 coming soon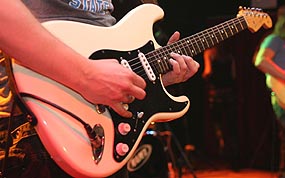 Exit Fest - The mamma of all festivals in the Balkans, EXIT festival 2013 in Novi Sad definitely deserves to be listed here even though it doesn't take place in Belgrade. Four days, many stages, hundreds of thousands of visitors... what more is there to say?
The Exit festival started in year 2000 and was basically festival founded for political reasons but in the last 10 years it became one of the most important festivals in Europe and in 2007 it received prestigious festival award in the UK for the Best European Festival.
Some of the major stars on previous years festival were: Manu Chao, Kruder and Dorfmeister Live, Tiga, Laurent Garnier, Juliette and the Licks, Soulwax Live, Booka Shade Live, Gossip, M.I.A, 2 Many DJ's, Deep Dish (Dubfire and Sharam), Primal Scream, Claude VonStroke, Ben Watt, Francois K, Sven Vath, Ministry, Gogol Bordello, The Hives, Paul Weller, Nightwish, Sex Pistols....
Exit 2013 will be held in July, at the Petrovaradin Fortress in Novi Sad.
So, if you missed this years festival but are still nearby, it is more than worth it to take the hour's bus ride to Novi Sad from Belgrade and spend a day or two there. You can either camp out there, or find some accommodation in Novi Sad, or go back-and-forth from Belgrade (where you can stay at any of the hotels in Belgrade, hostels in Belgrade or an apartment in Belgrade available to book via Belgrade Eye). Either way, make sure you spend at least one day and night there.
Tickets are always available online as well as on the ground in Serbia. The actual price always depends on how far you postpone the purchase so be careful to buy ticket on time next year.

TICKETS - http://bit.ly/EXIT2012Tickets
MOBILE - http://www.exitfest.org/en/mobile

EXIT is music festival that takes place at a beautiful and magical Petrovaradin fortress in Novi Sad, Serbia.
Apart from quality music program that it offers, the festival is a place of wild fun...

Watch EXIT 2012 aftermovie :)
http://www.youtube.com/watch?v=61910x...

Watch more TV:
http://exitfest.tv

EXIT festival social:
http://facebook.com/exit.festival
http://twitter.com/exitfestival
http://youtube.com/exitfestivaltv
http://soundcloud.com/exitfestival
http://mixcloud.com/exitfestival
http://livestream.com/exitfestival
http://flickr.com/exitfestival

Thanks for your support, and look forward to seeing you at the Fortress in 2013 :)