Belgrade City Center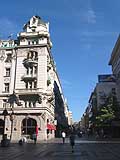 Even if you are only staying in Belgrade for a day, you will definitely walk down Knez Mihailova street, the city's main pedestrian zone leading to Kalemegdan, along the Republic Square (Trg Republike), the National Theater (Narodno pozoriste), and other historic buildings lining the street. While you're there, especially if it's summer, remember to sit down (or rather lie down in one of their beach chairs) for a cappuccino or a refreshing cocktail in the Plato club - and then come back in the evening for some jazz.
We also urge you not to miss out on one of the most beautiful parts of Belgrade around Kosancicev venac (the Kosancic Circle) - once you reach Kalemegdan from Knez Mihailova, turn left and go down Pariska street, past the French embassy. At the end of the street turn left, into Sime Markovica and walk by the Austrian embassy, the Belgrade Cathedral, the Patriarchate building, and Princess Ljubica's Quarters. Then turn right (downhill) and walk around Kosancicev venac - the lovely cobble-stoned street lined with historic houses and with an amazing view of the river. You will find yourself in what was once the very heart of the city, around which Belgrade was built and spread. Once you are done sightseeing, make sure to have a meal in Belgrade's oldest restaurant ? (yes, it's actually called the question mark) in Kralja Petra street (leading uphill towards Knez Mihailova, right past the Cathedral).
Vracar

Vracar - A nice part of Belgrade beyond the Slavija square. Its narrow, crooked streets are lined with houses and smaller buildings that are older than most other parts of town. Make sure you see the Saint Sava temple (Harm Svetog Save) in this neighborhood, otherwise just stroll around and enjoy its restaurants and cafes.
Dorcol
This part of Belgrade covers the area between Knez Mihailova street and the Danube, and some of the city's most popular cafes, bars and restaurants today run along its steep, narrow streets. Similarly to Vracar, this part of Belgrade is older, mainly residential (with primarily service businesses), and its buildings and houses are smaller and nicer than elsewhere in the city.
Zemun
This part of town lies across the river from downtown Beograd, meaning that it was usually on the opposite side of the border dividing the Austrian and Turkish empires than the rest of modern Belgrade. While this border shifted innumerable times in the past, Zemun still has a distinctly less Oriental feel and its architecture is more Central European, resembling towns like Novi Sad in Vojvodina more than Belgrade. The center around Glavna street makes for a very nice walk and the long riverside is also amazing. Go tanning on the Lido beach and stop by a fish restaurant for dinner or lunch.
The NATO Tour

This is what Belgraders jokingly term the lower part of Kneza Milosa street, where several buildings destroyed in the NATO bombing ten years ago still stand without much improvement. This is mainly because of administrative clashes on different levels of government (i.e. over who should be getting the cash once they are demolished and the land is sold), but it still makes for a very uncommon and impressive sight.
If you want unforgettable sightseeing cruise, please visit the Belgrade River Cruise section.
If you want to rent a boat, please visit the Private Charters section.