Belgrade Outdoors - Ada Ciganlija, Avala, Kostunjak
Ada Ciganlija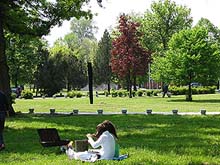 A huge, beautiful island turned into a peninsula 4 kilometers from the city center. Ada Ciganlija is not only an amazing natural resort and a favorite picnic spot (perfect for barbecues), it is also an outstanding sporting venue, a very popular beach, and a great place to go out at night.
Sports on Ada Ciganlija include water skiing, rowing, sailing, tennis, paintball, soccer, basketball, volleyball, soap soccer, golf, grass hockey, baseball, rugby, free climbing, bungee jumping, handball, mini soccer, table tennis, chess, and or course, fishing. A smaller lake called Ada Safari is used for sport fishing and all kinds of related events.
The Savsko Lake itself is an amazing site, with swimmers, boats, and water skiers on one end and a jet fountain on the other. The beach is lined with cafes and is an ideal spot for a cup of morning coffee or a cold beer in the afternoon. With dark, both sides of the lake wake up to greet the night as some of the nicest bars in Belgrade are located at Ada Ciganlija (and they are usually very affordable too), with the only downside being that you need to come either by car or by taxi, and then walk for some time (between 10 minutes and an hour, depending on how thirsty you are).
We would strongly advise you to resist the temptation to take a moonlight swim after a certain quantity of alcohol has entered your bloodstream.
The Danube Riverside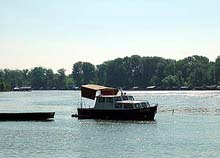 A bicycle track and walkway by the river, very close to the Dorcol neighborhood in downtown Belgrade. Follow Pariska street into Tadeusa Koscuska by Kalemegdan park - go straight down, cross Cara Dusana street, and continue straight until you reach the river. The walkway continues to the left, and along it are tennis, soccer, and basketball courts, and there is a large sports center (called May 25th) with swimming pools and various other sporting venues as well. Several outdoor clubs, bars and restaurants have also opened up recently.
Kosutnjak
The only endemic forest in Belgrade was once bristling with wildlife, including peacocks, deer, roes, does... today, Kosutnjak houses the largest sport center in Belgrade, a children's recreation center, jogging paths, a 19th century fountain, as well as numerous monuments, restaurants, and a vast space for hiking, picnicking, barbecuing, or just plain enjoying oneself in nature.
Great War Island - Veliko ratno ostrvo
This immense island in the Danube gets its name from the numerous Austrian-Turkish conflicts fought over Belgrade on its soil. Great War Island's forest is the home of many endemic bird species, and its Zemun end is the beautiful Lido beach. A great place to go swimming and hiking.
Avala
Avala is a small mountain just outside Belgrade, perfect for day trips and hiking. It was forested in early in the 20th century and today Avala is a national park which preserves its fresh air and natural water springs. In addition to mountain homes, restaurants and hotels, there are numerous monuments, the biggest and most famous of which is the Monument to the Unknown Hero. More like a mausoleum than a monument, its monumental structure and Yugoslav symbolism are reminiscent of the communist era. Until it was destroyed in the 1999 NATO bombing, the mountain was also marked by a tall telecommunication tower that was open for visitors and visible throughout Belgrade. We recommend a day trip to Avala if you are planning on staying for more than three or four days in Belgrade and if you can go by car.
Dedinje
Belgrade's wealthiest neighborhood also makes for a very pleasant walk, either in Hajd Park or exploring its alleys lined with trees and villas housing some of Serbia's richest (and often most notorious) citizens. Take trolleys 40 or 41 from the center (Takovska or Kneza Milosa street), get off on Bulevar Mira (Peace Boulevard) and wander around the neighborhood to your right.
If you want unforgettable sightseeing cruise, please visit the Belgrade River Cruise section.
If you want to rent a boat, please visit the Private Charters section.