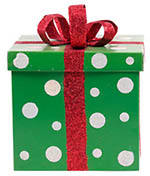 New year is the busiest time for Belgrade and 31st of December is the day when there is no possibility to find anything as virtually all shops will be closed. So if you really want to buy some presents in Belgrade - I would advise you to start looking for your gift now.
Here are some ideas for really unique presents in Belgrade:
Mamut Megastore
Address: Corner of Knez Mihajlova and Sremska street
Phone: +381 11 2639060
Open: Mon-Sat 09-22, Sun 12-22
One of a kind place for buying gifts in Belgrade and at the same time the biggest importer of books, cds, dvds, gifts and home decoration products in Serbia. There are so many great things in Mamut - last week I bought new Guns and Roses album ( and it was much cheaper than you would pay for it in other European capitals somewhere around 10 euro) as well as several great books. The place is also ideal for souvenirs since it has various gifts with Belgrade signs - so if you want to remember your trip this is the place to go. The place just announced the top 20 books and top 20 CDs, so if you want to buy something in the center this is really great option and as you walk slowly towards downtown Belgrade you can walk a little bit more downwards towards Danube and check out:
Indian shop
Address: Panciceva 9
Phone: +381 11 2186815
Open: Mon-Fr: 09-17, Sat: 09-15
Indian shop - is the place if you want to buy something unique imported from India especially if you are interested in : women garments, all sizes, Jewelry for all occasions, shawls, cushion and bed covers-different designs, colors and sizes, boxes, baskets, statues, CD racks, lamps, photo frames, small furniture at the most favorable prices in the city. This is the place for truly original gift and I highly recommend you visit it even after the holidays and it can be great place to find something nice and oriental to buy and stand out from the crowd of conservatively dressed Belgrade people. However if you are not that lazy and willing to go to New Belgrade take a tram number 7 or use your car and try to visit:
Delta City Belgrade shopping mall
Address: Jurija Gagarina 16
Phone: +381 11 2203660
Open: Mon-Sun: 10:00-22:00
If you like shopping and are willing to invest some time in finding the best gift for people that you care about I recommend you visit the place with the widest choice in Belgrade - Delta City. Newly opened shopping mall really has everything you can imagine from fashion items, underwear, and great toys for your children, all the way to jewelry, optical stores, home décor and much more.
Prezent Cake Shop
Address: Corner of Nevesinjska and Njegoseva
Phone: +381 11 2442 487
Open: 08-21 every day
Prezent is the best place for unique and delicious cakes in Belgrade. It is located in Vracar municipality and is the best place to buy sweets for any holiday. The decoration of the presents is also unique and if you happen to be near Slavija square this only 5 minutes walk so don't miss the opportunity to make the people that you care about happy – and as the old saying says - love comes from stomach. And once you are in Vracar municipality walk slowly from Prezent back towards the center for 15 minutes and you will find perfect place if you want to invest into something that will last:
Jewelry Sisic
Address: Decanska 7
Phone: +381 11 3220 876
Open: 09-20 every day
The place that has the nicest jewely in the city. If you want to make a real impression I recommend you try to choose something nice from constantly changing offer that this store offers. Check some of their products and you will realize that some things are always great gifts - so if you plan to invest into something of value especially in times of crisis - maybe jewelry especially - gold can be lucrative... not to talk about the joy that you will feel once you see the smile of your sweetheart.