Sirona Cruise Ship - Belgrade Boat Cruises
Cruise Experience to Remember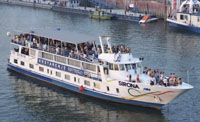 Board Sirona and leave behind the city noise, crowded street and everyday stresses. Relax and enjoy a delightful cruise. The River sooths your senses. Your spirit soars. Come with your family, your friends, with a date or come alone and meet new friends.

This Belgrade boat offers utmost comfort and romantic ambiance. Three decks. Two elegant restaurants - Sirona Lounge and Club Lounge. Two bars. Beautiful open-air upper deck - Sky Lounge. Deluxe cabins. Air Conditioning throughout. Quality sound system. Specially added stabilizers ensure exceptionally smooth and quiet sailing. Length 44 m. Capacity 200 plus boat crew.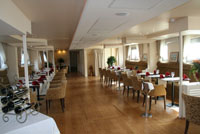 Belgrade from its Rivers – Danube tour

An enjoyable 90-minute sightseeing cruise. Along the Kalemegdan Fortress. Downstream toward Dorcol and Pancevo bridge. Up River to Zemun and Gardos and back to port.
Danube Excursion to Bela Stena with Lunch
An unforgettable afternoon for nature lovers. Down the mighty Danube to a romantic excursion site Bela Stena (White Rock). Leaving behind the hustle of the city revel in the majestic river and its verdant banks. Relax and enjoy the fun ambiance aboard, good food and your favorite drink and make new friends. The charming fishing settlement at the western edge of the Forkotumac island seems to be from another time. Cruise along the entire island passing on your left the mouth of River Tamish and the entrance to Pancevo Canal. Passing the eastern end of the island Sirona turns around and sails into Dunavac, the narrow branch of the Danube, its banks covered with lush greenery. Cruising through this beautiful waterway will be the highlight of your today's excursion. Dunavac rejoins the Danube on the other side of the charming fishing settlement and you cruise happily back to Belgrade.