Flights to and from Belgrade, Serbia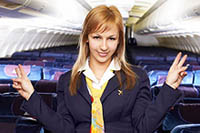 You're probably wondering if there are really no low-cost flights to Belgrade or from Belgrade. The answer: yes, from recently there are many pls download seasonal flight schedule:
Flight Schedule 2011- International Flights to Belgrade
The flight schedule can be dowloaded here
Please note that schedule of flights to Belgrade is subject to changes. Telephone for information: +381 11 3112 123.
Transportation from Belgrade Airport
There is a direct bus every hour on the hour and the price is around 2 euro. To get to the center, get off either at Belgrade train station or on Slavija square (final stop). You can also catch a taxi - see our section on Belgrade taxi for more information.

Car hire in Belgrade is an easy task if you use an international company such as Budget rent-a-car, Skill rentacar or similar. Cars range from... Learn More

The Serbian cuisine (and not only cuisine) was formed under the influence of all the cultures that lived in Belgrade throughout history... Learn More